Renting a boat that you captain yourself might sound like a great idea. You have visitors coming to St. Augustine or a group outing planned, and want to do something special. You might think, "Why not rent a boat that I can captain and go out for a memorable time on the water?" You could do that, but there's a better alternative to just renting a boat: Schedule a private boat charter on a well-maintained vessel with a seasoned captain who knows the St. Augustine waters.
Read the following FAQs to learn more.
Why should I charter your boat?
Private boat charters have a number of advantages over renting a boat on your own. A few of the top reasons to charter a boat with us include :
Enjoyment. Operating a boat – especially a boat you're not familiar with – is work. If you leave that up to your captain, you can enjoy the event along with your guests. You can also ensure that your event will take place on a well-maintained, comfortable vessel. (Not all rental boats can offer that assurance.)
Safety. Running a boat safely takes attention and knowledge, as numerous safety websites can attest. Waters around St. Augustine can be tricky with sand bars, currents, and boat traffic to keep an eye on. Captain Russ is a Coast Guard-certified master captain with over 15 years experience with charter operation.
Boat Setup and Size. Our vessel, the Tiny Elizabeth, is certified for up 20 passengers. We're set up for comfort with 6 front-facing seats, plus two tables that each have a front-facing and rear-facing seat. We have room for you to bring a cooler with drinks and snacks. (Facilities are available onboard.)
Flexible Scheduling. When you schedule your group's event with us, we tailor the time to your needs; most boat rentals that you take out yourself have a set schedule for a half- or full-day that cannot be customized.
No Extra Costs. When you schedule your private event with us, we quote the price for your charter (which is quite competitive with boat rentals). You do not pay separate fees for insurance. You also don't have to worry about late fees when returning the boat. (Note that we carry insurance on our vessel at all times.)
Tip: On typical boat rentals, when you don't purchase insurance, you are personally responsible if you damage the boat.
What kind of events should I charter your vessel for?
We've had numerous private boat charters for all types of events. Some of the popular outings we've hosted include: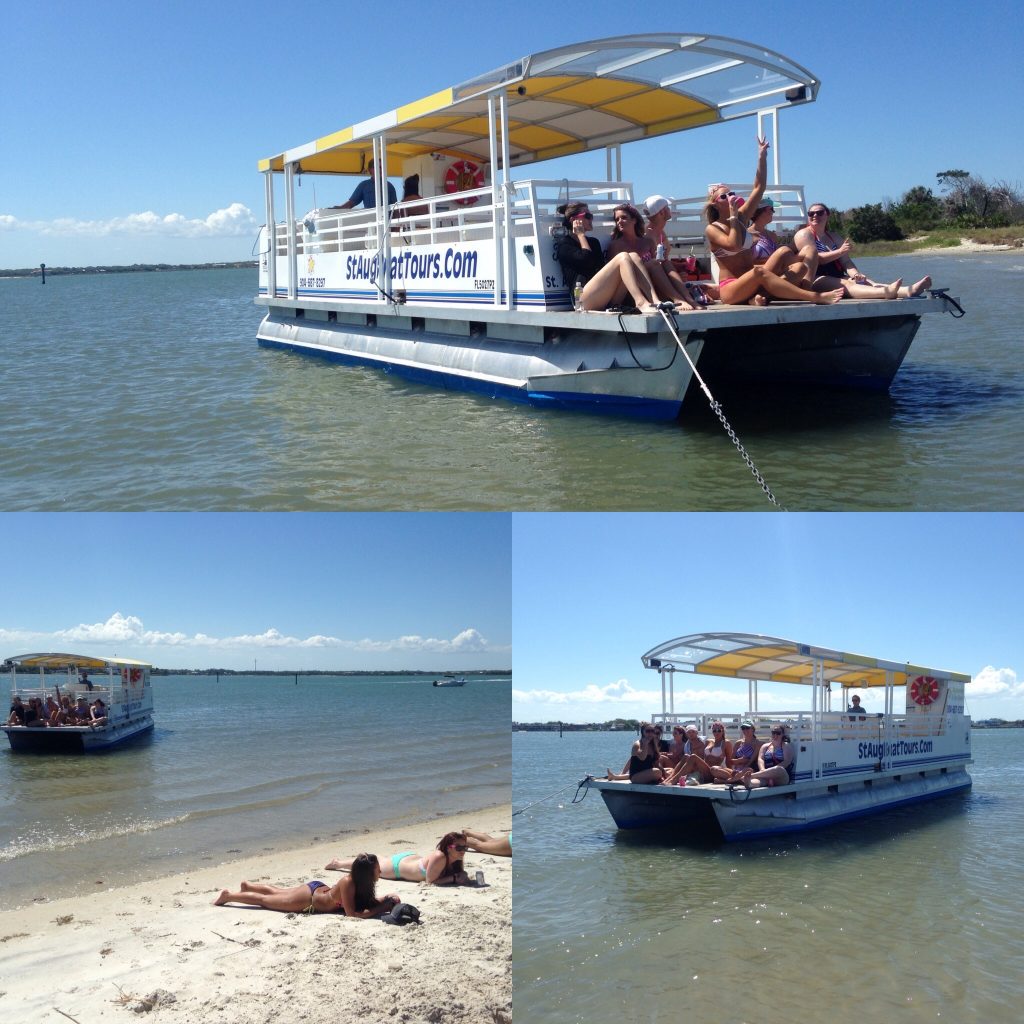 Family gatherings
Team-building events
Civic group and club outings
Birthdays
Bachelorette parties
Burials at sea
Anniversaries
Photography groups
Beach-combing
Vacation activity
Wedding events
Celebration of life events
How do I book with you?
Simply call our number, 904-687-8297, to talk with Captain Russ about your event. He'll help you select a time and give you the pricing before adding you to the schedule.