Extreme(ly relaxing) Pontoon Excursions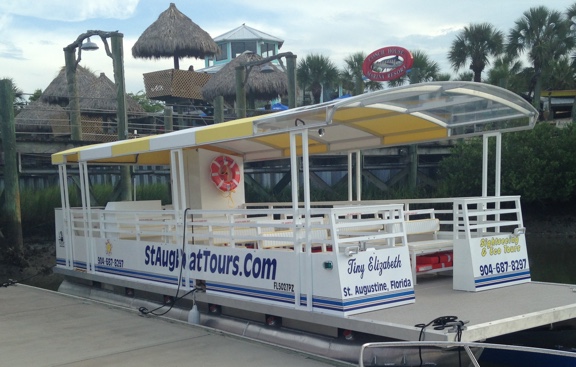 Off the pavement and on the water! Perfect any time of the year, our scenic St Augustine boat tours gives you a different perspective of historic St. Augustine and the surrounding waters. We'll take you on an enjoyable, leisurely tour of the Intracoastal Waterway and the Matanzas Bay, as well as give you a look at the beautiful Atlantic Ocean.
to view downtown St. Augustine from the water and to see natural Florida, as well, as we cruise the Intracoastal, (a waterway that actually extends about 380 miles along the Eastern coastline of Florida).
The flexibility of taking a smaller, more private and personal tour includes being able to explore some of the natural inlets, saltwater rivers, bays and sounds. In addition to birdlife and marine life, the trip will include views of marinas, stunning waterfront homes, and boating lanes with a variety of vessels, including yachts, sailboats, and fishing boats.
Our main focus will be the eco system consisting of saltwater marsh, estuaries, and shell mounds, in addition to the wildlife found in the area. Marine and wildlife that we might encounter includes sea turtles, an occasional manatee, a variety of birdlife, such as the osprey, and of course, we're almost certain to see dolphins.
Here are a few questions you might ask when booking a boat tour or a taxi ride. Is the company a full-time business? Will the tour be cancelled as a result of not enough passengers? Is the tour available when you want? Does the company carry insurance ($1,000,000 liability)? Do they have a permanent location?
More Info
St. Augustine is a one-tank trip
from Florida's West Coast and even closer for Central Florida, The Villages, Orlando, Gainesville, Ocala, Jacksonville, Daytona, and more. Visit St. Augustine Boat Tours for the day and we will gladly recommend some of our favorite places to eat and many other activities to enjoy while you're in the area.